Dr. Emre Sabuncuoglu has earned his Doctor of Musical Arts from the University of Southern California's prestigious Thornton School of Music. As an Andrés Segovia Endowed Music Scholarship recipient, he minored in music theory, ethnomusicology, and Flamenco guitar. Emre has established himself as one of the most gifted and versatile musicians of his generation. His broad academic background and wide-ranging musical interests have lead him in many different directions, forging a unique career rooted in performance, ethnomusicology, and composition. He has shared the stage with many of the world's leading guitarists. Emre has currently retired his teaching practice but stays active contributing to the classical guitar repertoire through his arrangements.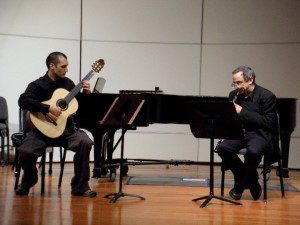 Rahul Puar – His Beginning his musical journey at age 11, Rahul dedicated himself to studying the classical guitar after being inspired by the performance of a local teacher. Setting his sights on refining his technique and improving as a musician, he has studied with some of the world's finest teachers at USC, UCSB, and SFSU and has participated in several masterclasses and competitions. Graduating with a bachelor's of music in classical guitar performance, Rahul has performed in several ensembles and premiered pieces by students and teachers alike. Teaching out of his home studio in Studio City, Rahul teaches students of all ages and skill levels. In his strife to be a well-rounded individual, he also holds a degree in psychology, enjoys painting, exercising, and close-up magic in addition to teaching and performing music.
Chicago-born guitarist Mark Goldenberg played in local bands throughout greater Chicago before enrolling in the formal study of music at the Music Conservatory at the Chicago College of Performing Arts. During the time he was enrolled in the conservatory, Mark became a member of another band, which eventually secured a recording contract. He and his band moved to California, where he made a name for himself as a highly-sought guitarist in many genres, playing for artists such as Al Stewart, Wendy Waldman, The Cretones, Linda Ronstadt, Peter Frampton, The Pointer Sisters, Chris Isaak, Ziggy Marley, Jackson Browne, Bonnie Raitt, Eels, Natalie Imbruglia, Waylon Jennings, Willie Nelson, and many others. A talented composer and songwriter, Mark's songs appeal to a diverse group of people. As a result of his songs' broad appeal, artists such as the Pointer Sisters, Eels, Natalie Imbruglia, Olivia Newton-John, Chris Botti, Linda Ronstadt, and Chicago have performed his work. His instrumental compositions have a meditative, contemporary sound which draws the listener inward. A versatile musician, Mark has also studied counterpoint and piano with Abe Fraser, a renowned pianist from the Los Angeles area. Mark learned the intricacies of playing fingerstyle acoustic guitar from the music legend, Ted Greene.